Samuel Sprague was born in Malden on September 27, 1712 to Phineas and Elizabeth Sprague. He found his way to Revere and married his first wife Martha Hills on January 11, 1736/7. They had seven children before Martha's death on September 13, 1750. Two years later Sprague married Rachel Floyd, with whom he had one more child.

While researching Samuel Sprague I was struck by how often I came across testimonials to his character. He is described as influential, prominent, a "useful and respected citizen," and a man of "patriotism, courage, and fidelity" who had the full confidence of his fellow citizens. His name appears in dozens of committees charged with some of the most vital business of the Revere of his time, and his zeal for the revolutionary cause made him, at age sixty-three, "one of the first to take up arms for his country" as captain of the local militia.

Sprague's influence in Revere may have been due to the amount of land he owned. He must have been prosperous, for at the time of the Revolution he was a tenant of the Cary Farm and owned two other farms. Each farm is described as having a house, a barn, and thirty-two acres of land as well as numerous livestock (for the record, Sprague owned four oxen, two steers, ninety-five sheep and lambs, fifteen cattle, a horse, a colt, and eleven hogs and pigs). In his will he left his widow Rachel the nicer of the two houses accompanied by a garden, a third of the household goods, two cows, a horse, and an annuity of four pounds in silver. He was also able to insure she was well-fed and provided for: yearly she was to be provided with twelve bushels of corn, four bushels of rice, two bushels of malt, seventy pounds of pork, ninety pounds of beef, six bushels of potatoes, eight pounds of wool, twenty pounds of flax, two barrels of cider, apples (apparently all she could handle from a nearby orchard), and six cords of wood. Sprague was also able to make sure that two of his aged slaves would be housed and provided for for the remainder of their lives.

Sprague's will, presumably in his own hand.

Available at americanancestors.org
Sprague's enduring fame in Revere is due to his role as captain of the local militia during the Revolutionary War. The fact that he was in his early 60s at the outbreak of the war has led people to speculate about how much he was physically capable of in terms of combat, rapid marching, and withstanding the rigors of life as a soldier. Nonetheless, the rank and file of American Revolutionary soldiers is full of unlikely heroes who overcame obstacles such as age, or on the other end of the spectrum, inexperience, to win the independence of this country.

Sprague took command of the local militia, comprised of fifty-one men, on April 19, 1775. He stationed a party of seventeen men to guard Pullen Point, now Winthrop, from that date until May 16th. Also in May of that year, Sprague and his men were part of a regiment under Colonel Samuel Gerrish of Newbury. This regiment joined with Colonel John Stark and his company to begin the removal of livestock from Hogg Island (now Orient Heights). This action initiated the Battle of Chelsea Creek, the first naval engagement of the Revolution.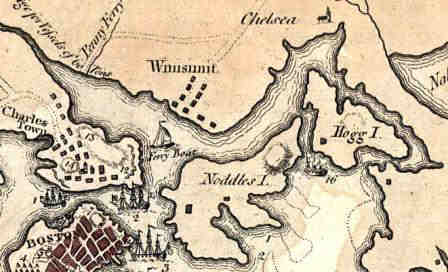 While the record is not one hundred percent clear, Samuel Sprague may have taken part in, and been wounded at, the Battle of Bunker Hill. A letter of the time states that "a portion of Gerrish's regiment (to which Sprague's men belonged) marched from Cambridge … and arrived on the hill in time to do service. Sprague was incapacitated either before or during battle, and the company was led by Joseph Cheever." Cheever was Sprague's First Lieutenant and occasionally led the group, as seems to have been the case when the company was listed among the soldiers at Valley Forge.

Another interesting anecdote about Sprague's service is found in a letter to Colonel Loammi Baldwin from Sergeant Nathaniel Hills. Hills complains that Sprague was asleep when he should have been making the rounds at night, and that he "neglects this part of his duty a great part of the time." Nevertheless, whatever the particulars of his service may have been, no one doubted Sprague's bravery and commitment to the cause of the Revolution.

The esteem in which Sprague was held is evident in the number of municipal functions he fulfilled. His friends and neighbors trusted him to look out for their needs: in 1776 he was part of a committee that "petition(ed) the general court setting forth the town's sufferings the past year on account of the war," and in 1778 he helped "examine claims of all persons that have done anything in the war since April 19, 1775." It appears he was also in charge of procuring supplies for local soldiers. Records show that in September of 1775 he rounded up bread, pork, soap, candles, fish and peas for two companies totalling over a hundred men. It wasn't just his fellow citizens that had such confidence in Sprague. In 1774 he was appointed to a committee "to see that the resolves of both the Continental and Provincial Congresses be strictly observed."

Sprague's gravestone before repairs …

and after. Repairs by Epoch Preservation.
Sprague died on April 15, 1783 and was buried in RMBG. His gravestone can be found about halfway into the cemetery, close to the path. His epitaph reads "Prepare all friends to follow me, if you the face of God in love do hope to see." Sprague's gravestone had been broken in two pieces, but was repaired in 2019 by Epoch Preservation. Now fully restored, the resting place of Revere's First Great Patriot is one of the main attractions of any visit to RMBG.
Researched and written by Brendan O'Brien, March 2020. Photographs by same unless otherwise indicated.