Author Unknown
The majority of old towns have a graveyard in which are buried the early settlers of the town. Many people may not know that such a yard exists in the very center of the City of Revere, the Rumney Marsh Burying Ground. It is located midway between Beach Street and Winthrop Avenue behind the high school over in the vicinity of Harris Street. Unless one is really looking for it, one would easily pass it by without even seeing it. It has served its purpose well and, although no burials are now allowed in it, there was an interment about four years ago.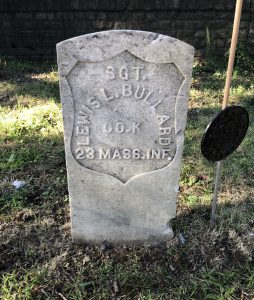 Just when the graveyard was made is not definitely known but the date is approximately 1690. It served for people living in what are now Chelsea, Winthrop and Revere as these places were all one in those days and the yard is antedated by the King's Chapel Yard in Boston by only sixty years.
The oldest stone now standing is that of Mary Smith, Feb. 6, 1693/4. She was the wife of John Smith, an early tenant of the Ferry Farm in Winnisimmet (Chelsea). Deane Winthrop, son of Governor Winthrop, lies buried here; the Watts family, the Cary family of Chelsea; the Bills, Belchers, Tewksburys of Winthrop; Floyds, Tuttles, Haseys, Chamberlains, Cheevers, the Eustis family, Fullers, Gays, Greens, Halls, Lows, Olivers, Pratts, Sales, Slades, Spragues, Stowers, and many others. Rev. Thomas Cheever, the first minister of the town is buried here as is also Rev. Phillips Payson, the Revolutionary minister, or as he was called "The Fighting Parson" as well as twenty-four other Revolutionary soldiers. Slaves of the different families are buried in this spot.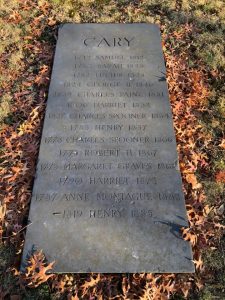 The cemetery is well cared for and a visit to it would amply repay one interested in such old stones and quaint inscriptions. Although many of the stone markers which once so simply honored those early Revere people no longer may be seen, there is much of historic interest in the solemn little place.
William E. Martin of Harris Street has prepared for the Society of Winnisimmet, Rumney Marsh and Pullen Poynte which cares for the burial grounds, the following list, as completely as possible, of those who are buried in the old cemetery:
Colonial Wars, 1675 – 1763: Capt. John Smith, Lieut. Jonathan Bill, Lieut. Joseph Hasey, Lieut. John Floyd, Ensign Joseph Belcher, Ensign Hugh Floyd, Ensign John Center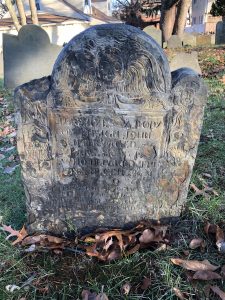 Revolutionary Wars: Capt. Samuel Sprague, Rev. Phillips Payson, Lieut. William Oliver, Lieut. Samuel Pratt, two privates named William Oliver, Abijah Hastings, Joseph Green, Joseph Green Jr., John Sale Jr., William Low, William Low Jr., Edeward Waitt, Moses Collins, John Pratt, Caleb Pratt, Caleb Pratt Jr., Nathan Belcher, James Tewksbury, John Tewksbury, Andrew Tewksbury, Job Warrow, colored
War of 1812: Sergt. Abner Gay, Abijah Floyd, John Green, Stephen Green
Civil War, 1861-65: Lewis Bullard, William P. Cook, Daniel Conn, Joseph Pratt, Harrison Reed, Patrick Murphy, Christopher Richardson, Samuel B. Kehew, John Sale, Joseph White, Cornelius White, Cornelius Nye, Caleb Russell, William Carr