The sources of information about Robert Fowle are the books From Slate to Marble: Gravestone Carving Traditions in Eastern Massachusetts Volumes I and II by James Blachowicz. Both volumes are available at http://graverpress.com and are absolutely essential for anyone interested in the history of New England's cemeteries.
Robert Fowle was born in Boston in 1743. He served in the Revolutionary Army and was present at the burning of Charlestown. Fowle worked in Boston, Salem, and Newburyport, most often as a journeyman stone carver employed in other carver's shops. He was closely associated with Caleb II and Joseph II of the Lamson stone carving family1Caleb has already been featured in this series, Joseph is coming soon., working with both extensively.
James Blachowicz attributes 478 gravestones to Fowle. They are distributed all over New England, and were even exported as far away as North Carolina and Nova Scotia. The following five RMBG stones are ascribed to Fowle: Hepzibah Oliver (1769), John Sale Oliver (1769), Sarah Oliver (1769), Sarah Williams (1789), and David Belcher (1794). All are still standing, and only the John Sale Oliver stone is damaged.
Fowle worked in all the standard gravestone carving styles of his time: winged skulls, winged faces, and willows and urns. He also worked in less common styles, such as portraits, busts, full skeletons and trumpeting angels. Of his RMBG stones, the three stones for the Oliver family are almost identical winged faces. The David Belcher stone is a different style of winged face, and the Sarah Williams stone is perhaps the most interesting stone in RMBG: a bust on a pedestal flanked by a cut flower and a full skeleton bearing a scythe and an arrow.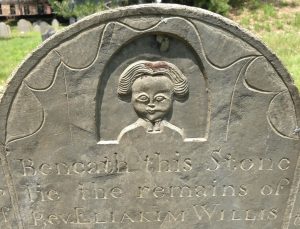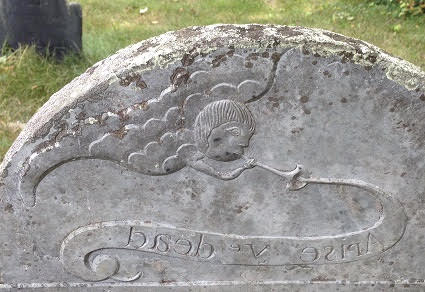 The winged faces of Robert Fowle changed through different stages of his career, perhaps influenced by the carvers he was working with at the time. While some were quite plain, lacking any detail in the hair or wings, his three winged faces for the Oliver family are fully feathered and coifed and meet the viewer with a sober expression.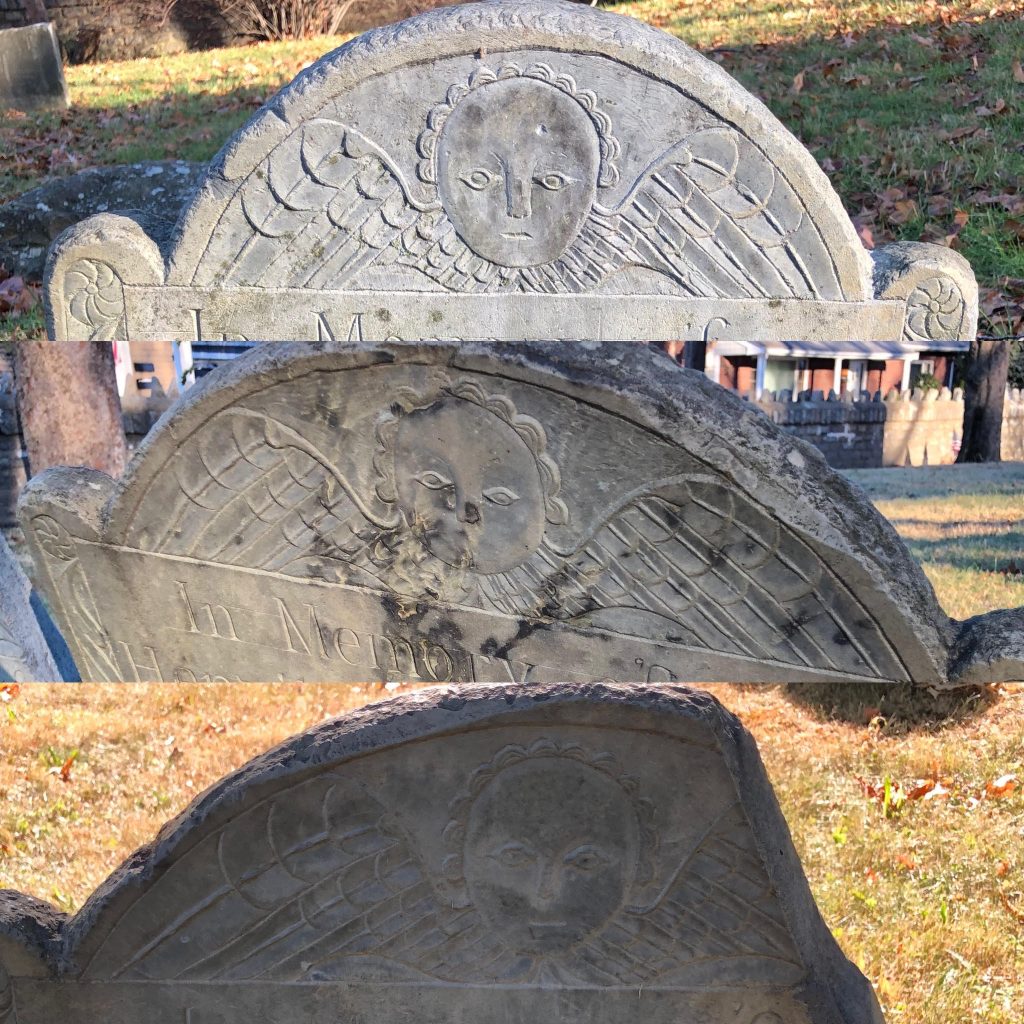 His David Belcher winged face, carved 25 years later, is much simpler. A series of shallow curves indicates feathers on the wings, and the face is a simple circle with straight hair and a childlike expression. A new addition on the Belcher stone is an attempt at a decorative border above the winged face, but the effect is not impressive.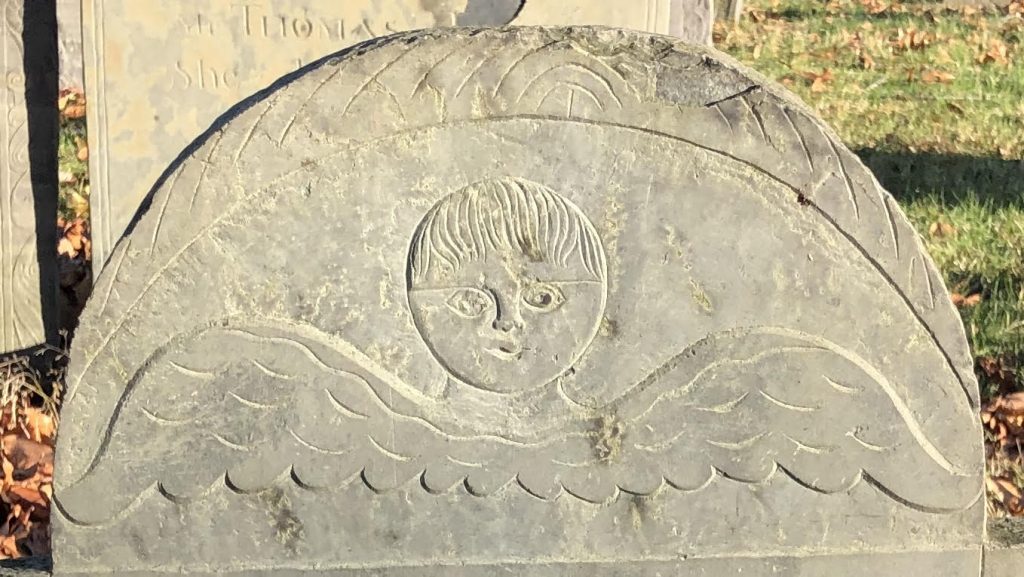 On the other hand, the stone for "the widow Sarah Williams" of 1789 (my personal favorite in RMBG) is a beautifully executed carving. The bust, which may or may not be intended to be a portrait of Sarah Williams, sits on a pedestal above the elaborate cursive "IN" of the epitaph. On each side of the bust we find symbolic representations of death: a drooping cut flower, and a full skeleton armed with a scythe and an arrow pointed directly at the head of the bust2This skeleton is a recurring character on Fowle stones, also making sometimes amusing appearances in Newburyport, Charlestown, and Byfield. The most interesting element (for me, anyway) is the smile on the face of the bust, giving it a bemused expression in the face of death.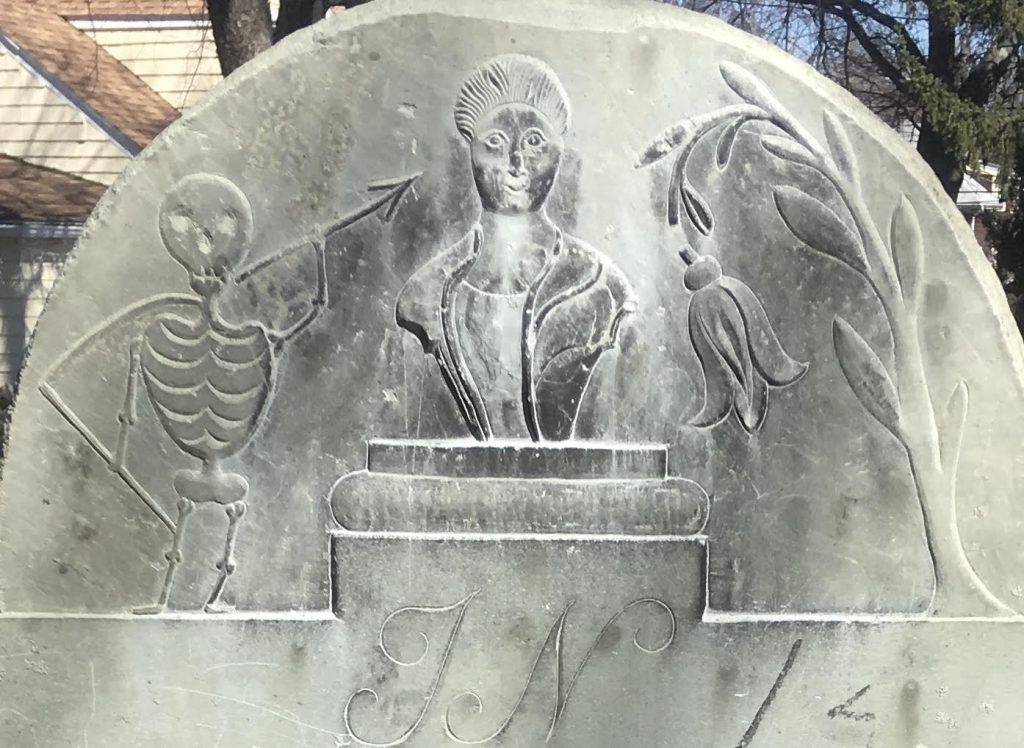 Robert Fowle's career was derailed when he lost an eye in an injury suffered in 1799. He died in 1805 and is buried in Boston's Copp's Hill Burial Ground.
Researched and written by Brendan O'Brien, August 2020. Photographs by same.