Along the north wall of Rumney Marsh Burial Ground are two plaques which commemorate the burials of African-American men, women, and children, most of whom were enslaved in Rumney Marsh and Chelsea during the Eighteenth Century. The plaques implore us to "never forget that they were human beings who contributed to our community's history." The information on the plaques, which seems to be based on the 1897 map of the burial ground, provides us with names, dates of death, approximate ages, and occasionally the names of the people they were enslaved by.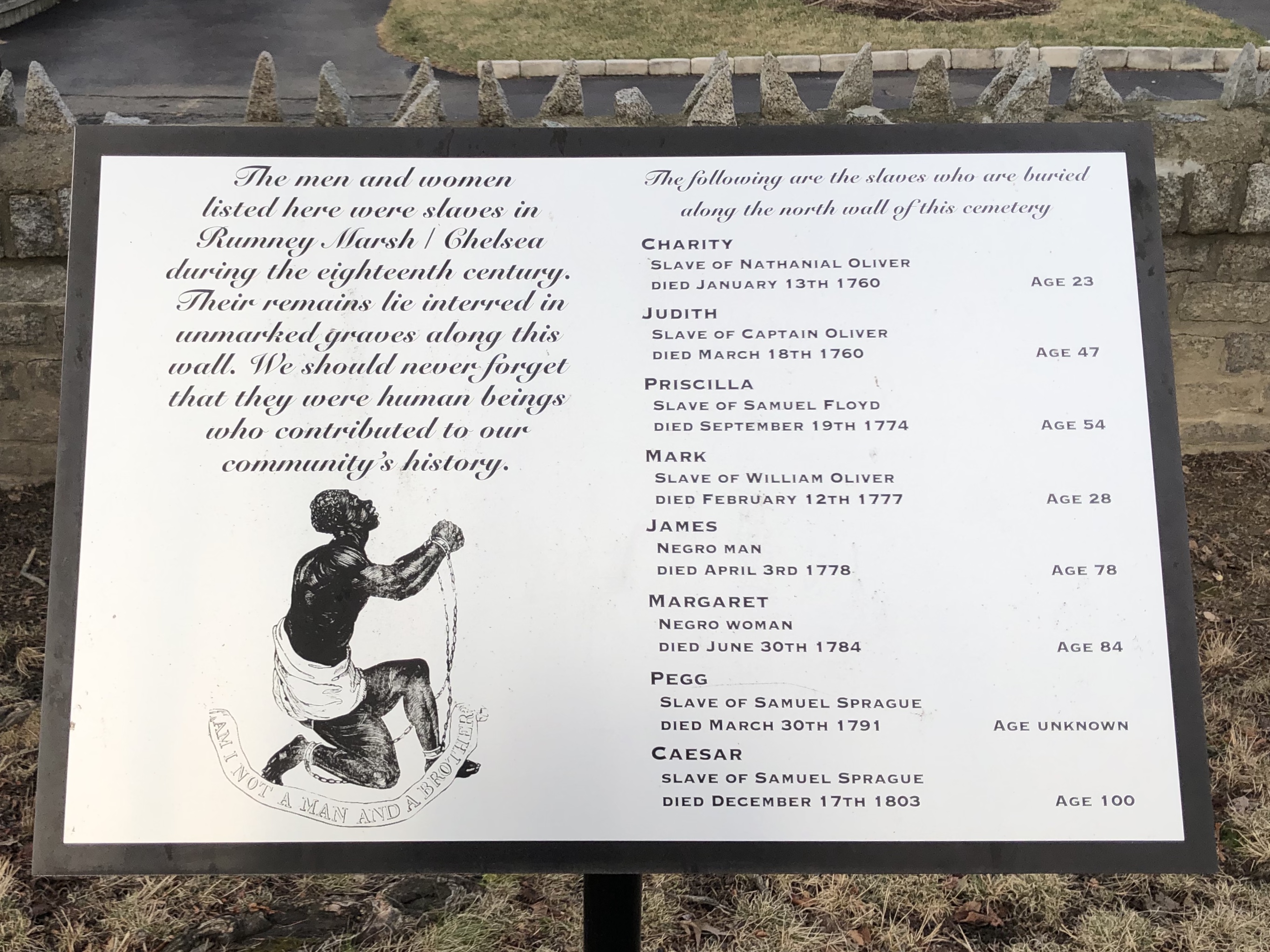 The plaques read as follows:

– Jack, slave of Samuel Pratt, died February 14, 1702, age nearly 100.
– Fortune, Negro man, died September 30, 1794, of great age.
– Sampson Bassett, a free Negro man, died April 12, 1826, age 86.
– Parker Bassett, black boy, died August 11, 1818, drowned in one of the clay pits, age 9.
– Miss Ann Bassett, died 1828, age unknown.
– Buried in an unmarked grave are
– Job Worrow, died June 21, 1836, age 100
– His wife Betty, died November 6, 1804, age 86
– Charity, slave of Nathaniel Oliver, died January 13, 1760, age 23.
– Judith, slave of Captain Oliver, died March 18, 1760, age 47.
– Priscilla, slave of Samuel Floyd, died September 19th, 1774, age 54.
– Mark, slave of William Oliver, died February 12, 1777, age 28.
– James, Negro man, died April 3, 1778, age 78.
– Margaret, Negro woman, died June 30, 1784, age 84.
– Pegg, slave of Samuel Sprague, died March 30th, 1791, age unknown.
– Caesar, slave of Samuel Sprague, died December 17th, 1803, age 100.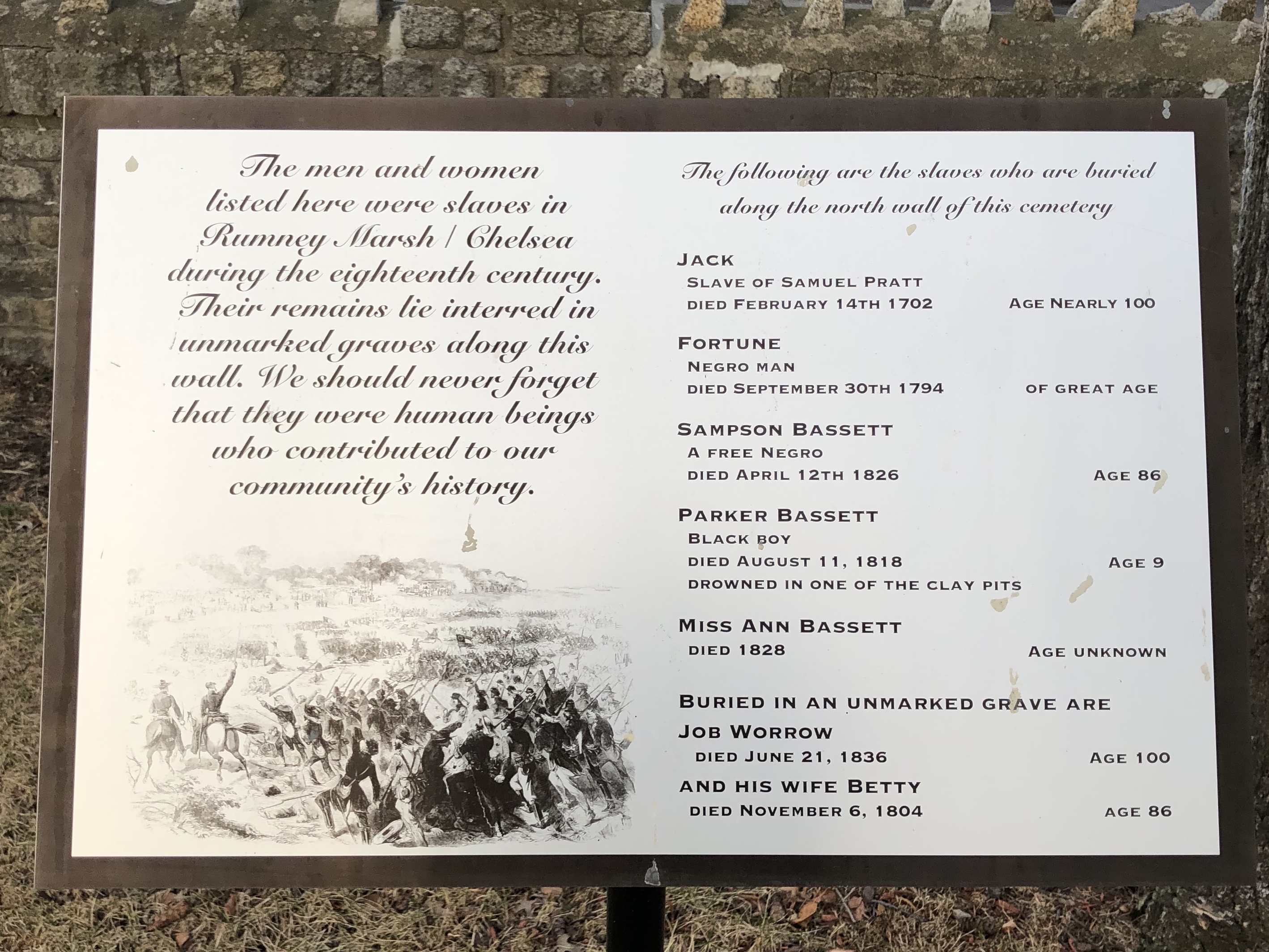 The burials are unmarked, and it is more than likely that graves never existed. The plaques indicate that each of these people were buried along the north wall, and the 1897 map indicated that most of them were. However, the map and Benjamin Shurtleff's 1938 book "The History of Revere" indicate that Job and Betty Worrow were buried in the southeast corner of the burial ground along with Fanny Fairweather, an enslaved person of the Cary family who is not named on the plaques. Shurtleff makes the remarkable claim that Fairweather's stone "has long since disappeared" and even seems to know what was inscribed upon it: "Fanny Fairweather, died 1845, age 80, a native of Africa." While it is possible that Fairweather's stone may have fallen over and sunk into the ground, it is equally likely that it was stolen or destroyed.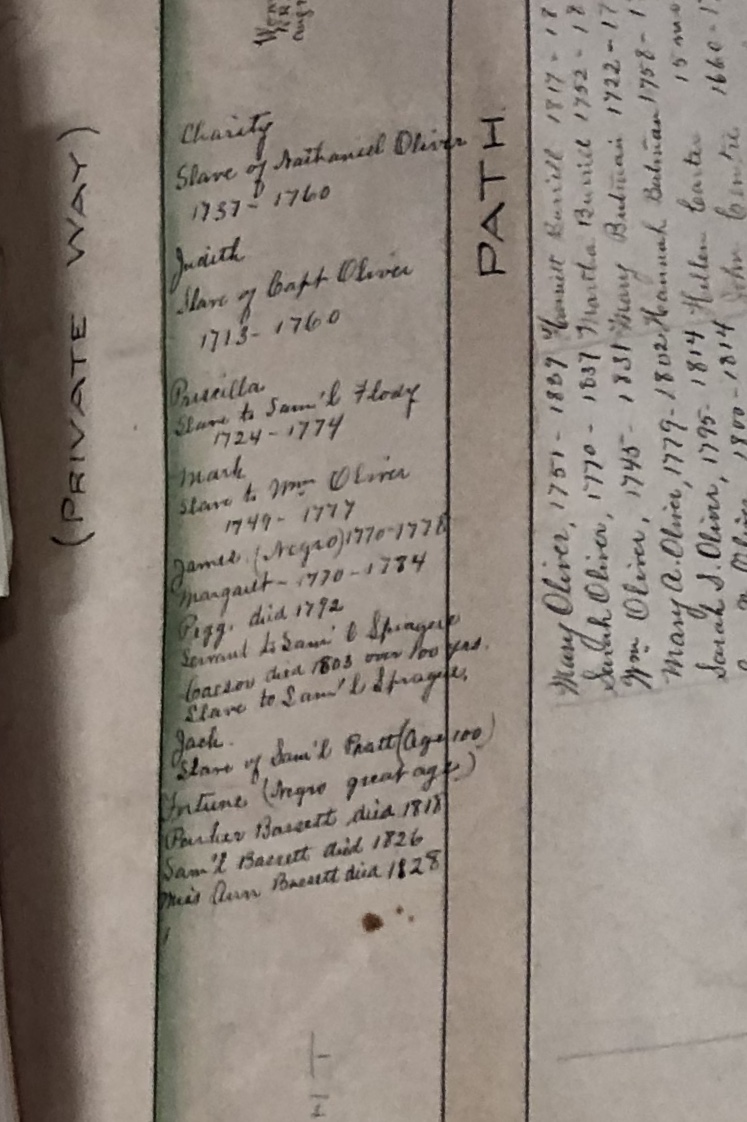 The 1897 map indicating burials along the north wall

It is also possible that at one time a grave existed for Job Worrow. A City of Revere Veterans Graves Registration card exists in his name. While it is largely blank, it includes his name with the designation (COLORED), his date of death, Ye Olde Burial Ground in Revere as his place of burial, and the number 325 in the space "Grave Number."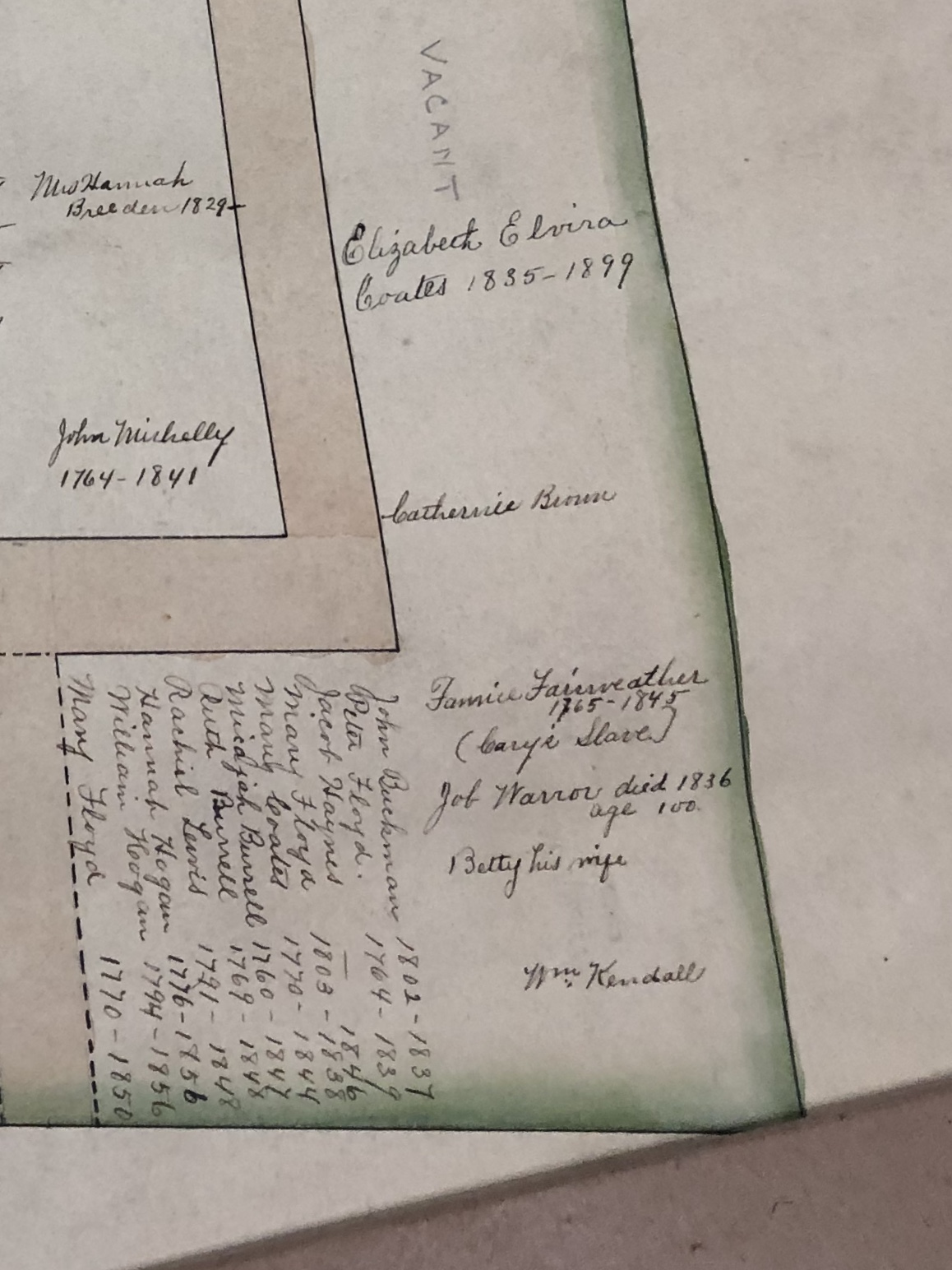 The 1897 map indicating the burials of Fanny Fairweather and the Worrows

When using Shurtleff's book for research, it seemed that most official records that he had access to only mentioned enslaved people when they were part of transactions. For example, Shurtleff details how enslaved people belonging to the Floyd family were passed from one generation of Floyds to the next. John Floyd, who died in 1701, distributed his eight enslaved people thusly:

– his widow Sarah was given Jack and Tom
– his son Hugh was given Richard
– his son John was given Caesar, Sarah, and their youngest child James
– His son Daniel was given Harry
– His daughter Sarah was given Lydia.

When the second John Floyd died in 1723/4, he split up Caesar and Sarah, giving Caesar to his daughter Rachel and Sarah to his daughter Abigail. He also gave his wife Rachel "the Negro boy Jack, who was to serve her for life and then revert to his son John." When Hugh Floyd died in 1730, his will indicated that Richard was to "serve each of his sons in turn a year and then receive his freedom."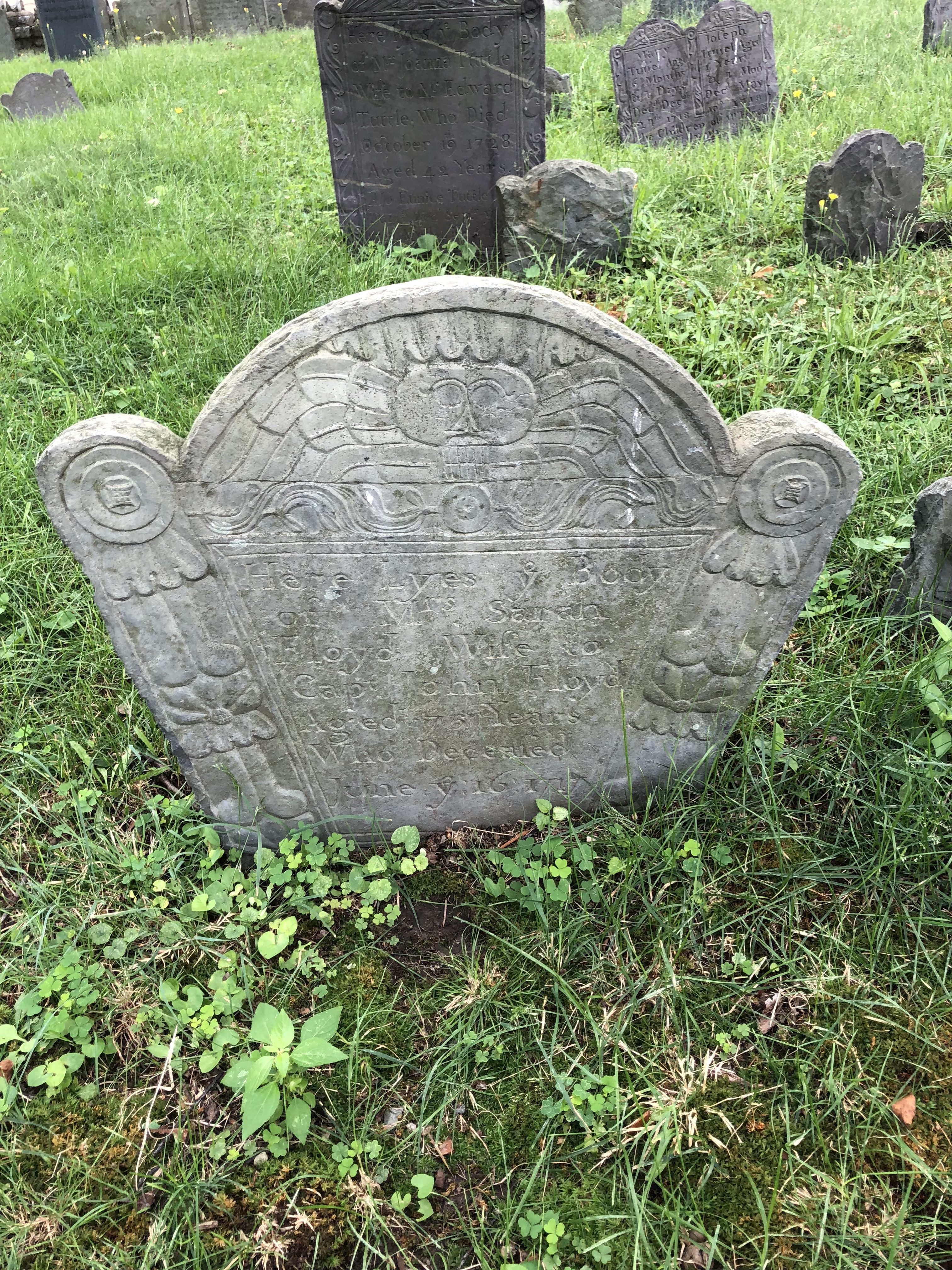 Grave of Sarah Floyd, wife of John Floyd

Most of the descriptions of wills in Shurtleff depict similar arrangements. In 1723 John Tuttle gave his wife Martha his "household goods and Negro girl Peg and all his cattle to be at her dispose forever." His will also gave her his farm and the enslaved people Jack and James with the condition "so long as she remains my widow." If Martha was to remarry or die, the farm and enslaved people would go to his son Samuel, and then to his heirs. In 1763 Captain John Sale gave his second wife Huldah "his Negro man Caesar for life." Jacob Hasey's will of 1753 gave his entire estate to his wife Abigail, with this condition regarding their enslaved person: "At her death, his Negro man Jemmy was to be set free, although if he caused her trouble she might sell him."

An interesting exception to these conditions is found in the will of Captain Samuel Sprague. Sprague bought property from a Marblehead man named Azor Orne. Shurtleff notes that this property was part of a farm that spanned from Revere Street at Broadway to School Street. Captain Sprague used a house on this property "for his two aged Negroes, Caesar and Peg, and left provision for them in his will" that they be "supported out of the estate for life." Sprague died in 1783, Peg in 1791, and Caesar in 1803.

Miscellaneous details about other individuals:

Job Worrow

More detail exists about Job Worrow than any of the other enslaved people buried at RMBG. That is perhaps due to his status as a veteran of the Revolutionary War. His name appears on the roll of men who served under Captain Samuel Sprague and "kept guard at Pullen Point (Winthrop) from April 19, 1775, until their discharge by their officer." Worrow's name can also be found on a commemorative plaque for Rumney Marsh Burial Ground veterans. He also may have been a well-known local figure of his time. The book "A Documentary History of Chelsea" by Mellen Chamberlain features the following paragraph:

"Job Worrow is a name that has been repeated in Winthrop by one generation to another, from the days of '76 to the present time. The old church records in Revere have this entry concerning him under the head of marriages: "1777, July 13th, Job Worrow to Anna Sennie, an Indian, a mulatto." Job lived at one time on Deer Island with Captain William Tewksbury. Later he lived at Point Shirley, where he and his wife occupied a house with but one room. Many stories are still repeated of the tricks played upon old black Job by the youngsters of the old days. A few people now living remember seeing him when he was a very old man. He is said to have died in the poorhouse in Chelsea, now Revere, at the age of 100 years."

Job Worrow on the Veteran's Plaque at RMBG

Sampson Bassett

Sampson Bassett is listed on the plaques as a free Negro. Shurtleff's book, which revels in describing how property changed hands throughout Revere's history, tells us how Bassett came to own property on "the westerly side of Washington Avenue" near Malden. William Oliver sold land to Tower Hill, a "free Negro of Malden," who then sold it to Simon Knight (also a free Negro), who sold half of it to Sampson Bassett. A house that was built on that property at some point between 1772 and 1786 became known as the Bassett House. Sampson died there on April 21, 1826, and the house was torn down around 1921.

Phillis

The following appears on a list of Rumney Marsh church members: "Elder Watt's Negro woman baptized by name of Phillis, January 1, 1744.

Jack Langdon

In a description of the land that became known as Prattville, Shurtleff mentions that Jack Langdon, who he describes as "the last slave known in this section of the country," lived in Samuel Pratt's house.
Researched and written by Brendan O'Brien, February 2020. Photographs by same.