The Haseys are perhaps the most important of the families buried in RMBG, because they owned the land when the first recorded burials took place. The first William Hasey bought the land from Samuel Cole, and his sons William and Joseph began to allow burials in 1693.
There are 13 Haseys buried in RMBG, beginning with the brothers William and Joseph in 1695 and 1707, respectively. The others are as follows: Elizabeth (1708), Joseph (1712), Abraham (1713/14), Judah (1718), Asa (1725), Abigail (1731), Sarah (1735/36), Hannah (1748), Deacon Jacob (1753), Elder William (1753), and Abigail (1783). The first William Hasey moved to Reading, where he died in 1689. He is buried in the old burial ground on the shores of Lake Quannapowitt in Wakefield.
The Hasey gravestones are located in the rear of RMBG, spread out among other early families of Rumney Marsh. Almost all of their stones are intact and legible, with the exception of Abigail (1783). You will notice different spellings of the name Hasey on these gravestones – Hascy, Harscy, and Hacy appear in RMBG, and William's gravestone in Wakefield reads Hescy. While most of us would be deeply insulted by a misspelled name on a gravestone, in the Colonial era names were often spelled as they were heard, and apparently everyone was OK with that!
Like many of the old families of Rumney Marsh, the Hasey name can be found on a street sign in current-day Revere. Hasey Street is a block away from RMBG off of Harris St.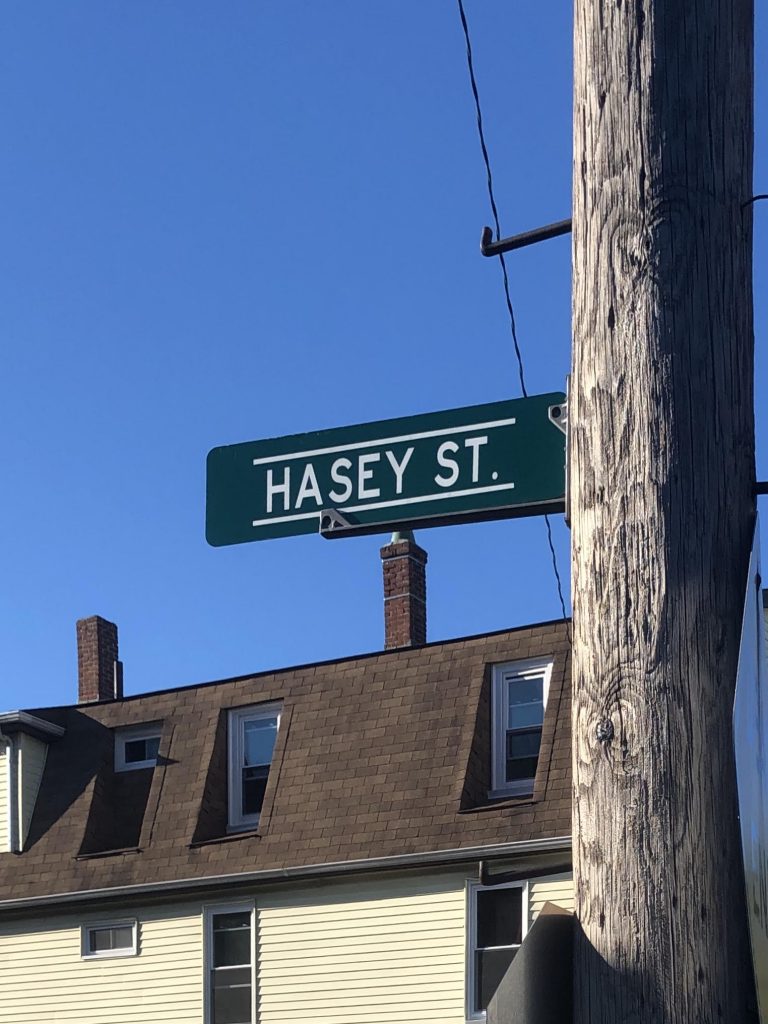 What follows is a list of the RMBG Haseys with pictures of their gravestones and some brief notes about their lives based on what information is available.
William Hasey (1619 – 6/7/1689)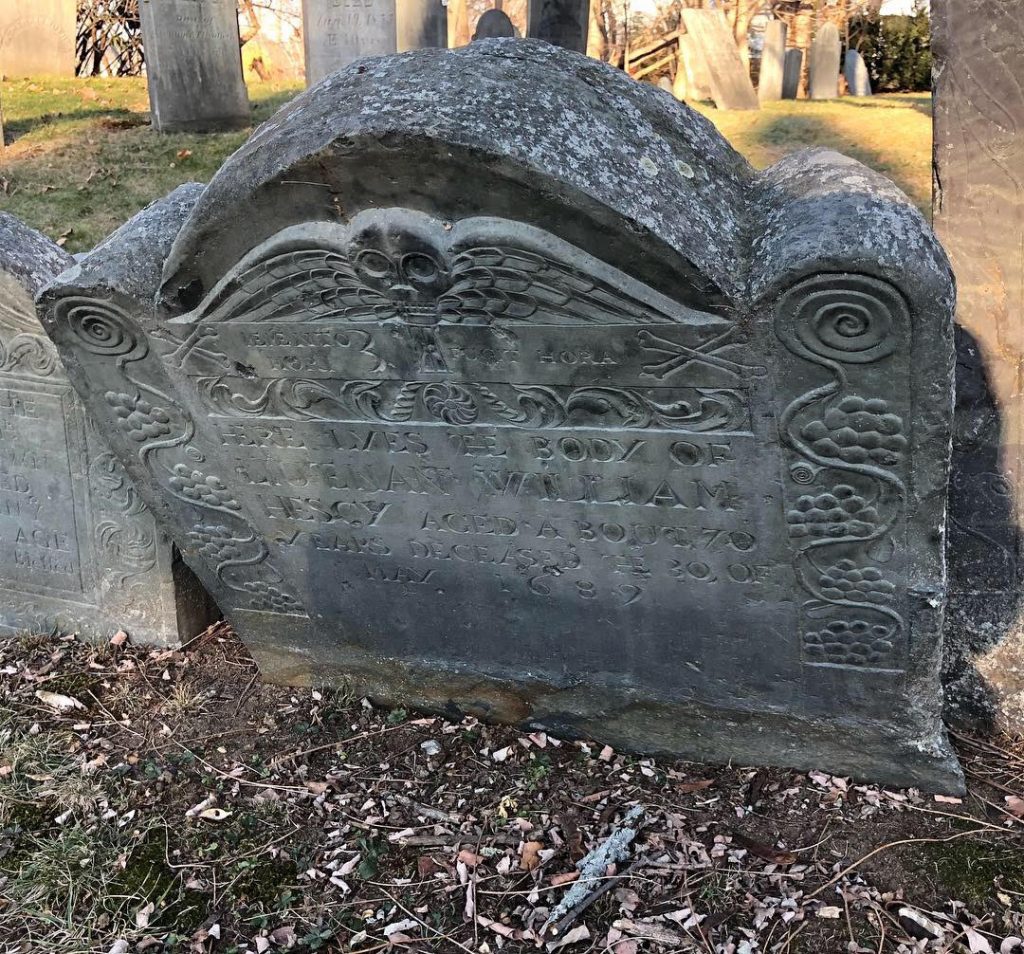 William Hasey bought 5/6ths of Samuel Cole's farm in 1654. At his death he split the 190 acres between his sons William and Joseph.
William was a member of the Massachusetts Artillery Company, and a Lieutenant in the Three County Troop, a cavalry unit made up of men from Middlesex, Essex, and Suffolk Counties.
William Hasey (9/15/1652 – 6/7/1695)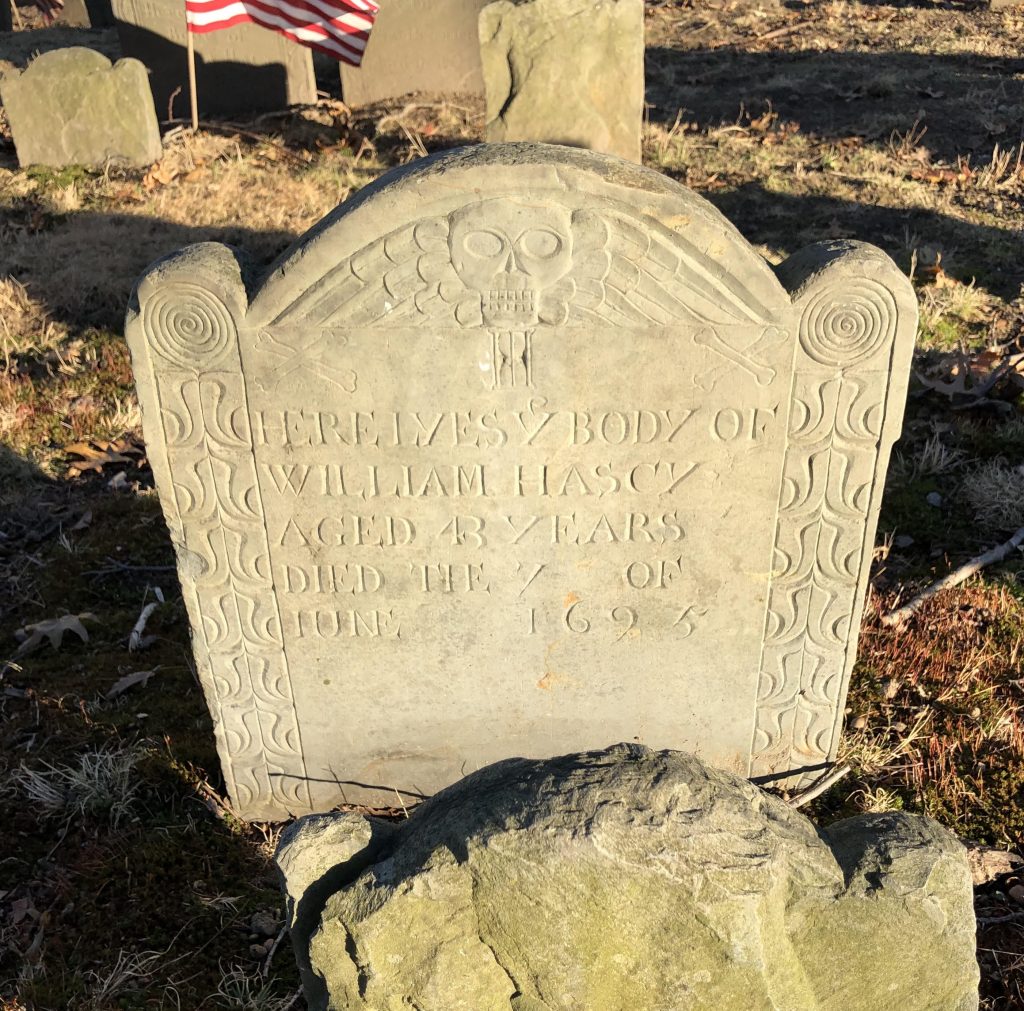 This William Hasey seems to have lived a quiet life. While he wasn't the first burial at RMBG, his 1695 headstone is the oldest intact gravestone in RMBG.
Lt. Joseph Hasey (5/29/1657 – 6/28/1707)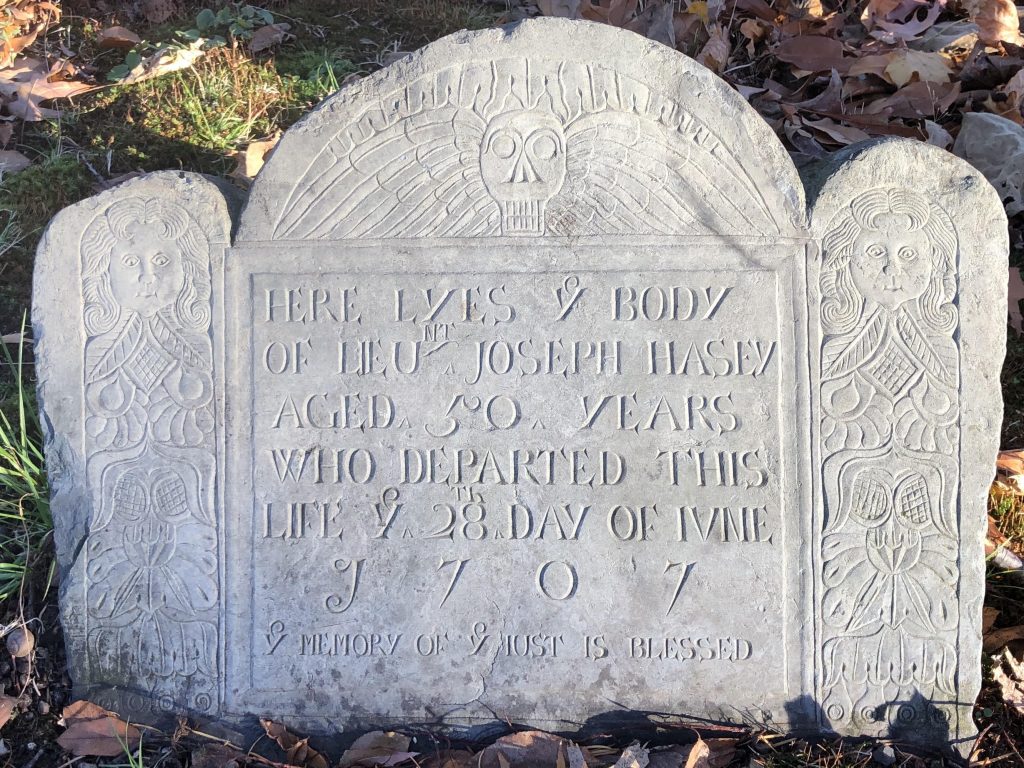 In 1693 Joseph and John Tuttle were appointed "haywards and fence viewers" for Rumney Marsh. A hayward was an officer in charge of fences and enclosures, whose main job was protecting crops from livestock. A fence viewer covered some of the same ground but also inspected fences and settled disputes arising from the trespass of escaped livestock.
Elizabeth Hasey (1682 – 7/25/1708)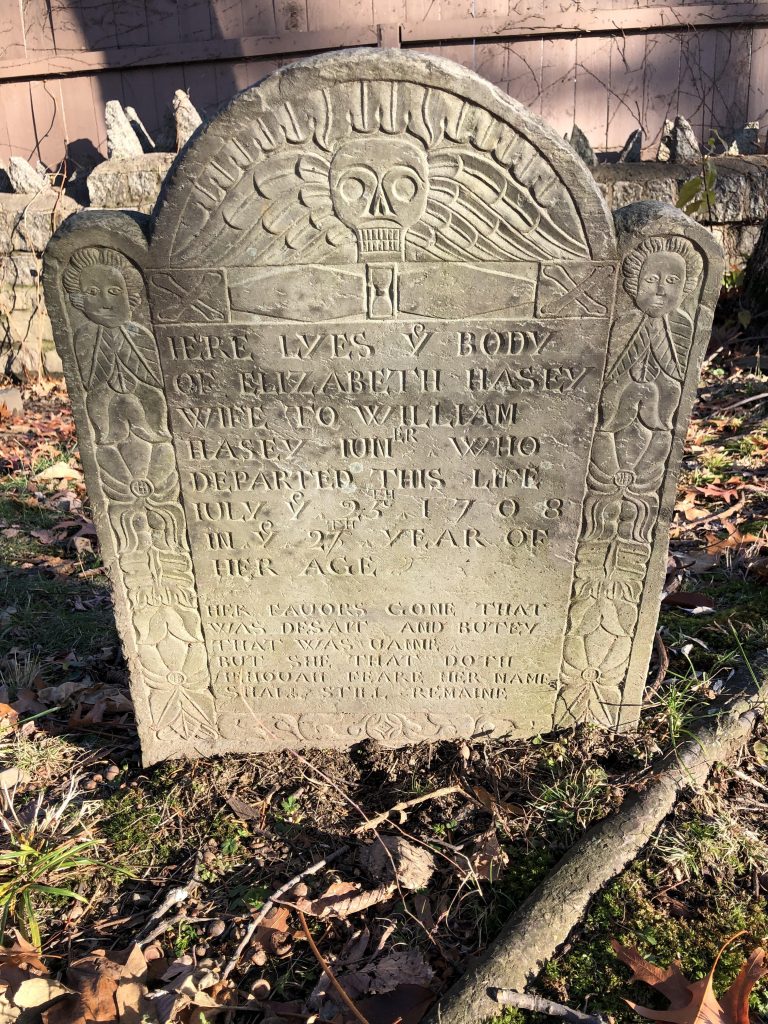 Elizabeth Brown of Ipswich was the first wife of Elder William Hasey.
Her strangely spelled epitaph has always puzzled me: "Her favors gone that / was desait and butey / that was vane / but she that doth / Jehovah feare her name / shall still remaine."
Joseph Hasey (2/24/1712 – 5/6/1712)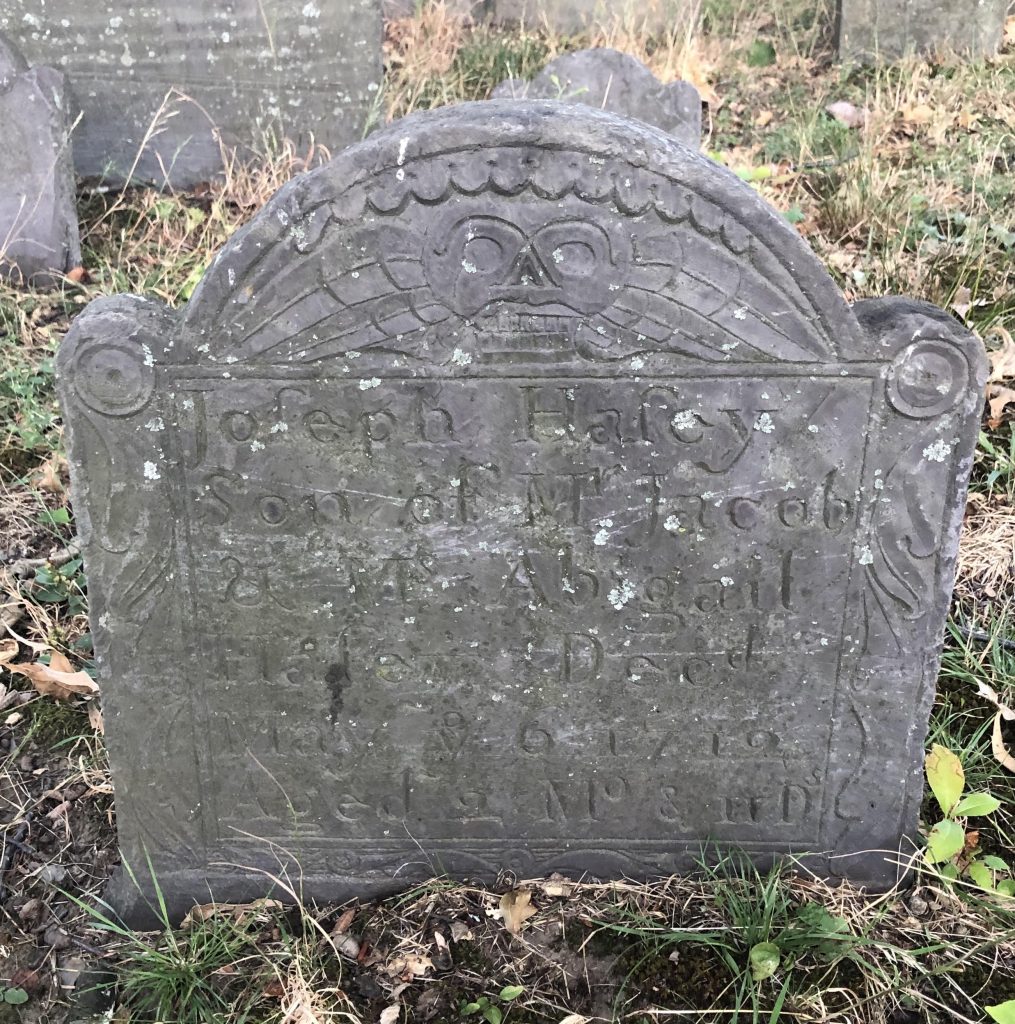 Joseph was the son of Deacon Jacob and Abigail Hasey.
Abraham Hasey (1/26/1685/6 – 11/17/1713/4)
Abraham was the son of Lt. Joseph and Hannah Hasey
In 1740 he and his brother Asa gave the town land to build a meeting house which stood on what is now the corner of Beach and Eustis Streets.
Judah Hasey (1650 – 11/17/1718)
Judith Jacobs of Ipswich was the wife of the 2nd William Hasey. Even in light of the discussion above about variations in the spelling of names, it's hard to see how "Judah" ended up on this gravestone.
Asa Hasey (8/14/1683 – 11/12/1725)
As mentioned above, Asa and his brother Abraham gave the town the land for the meeting house.
Asa was also part of the committee that named Thomas Cheever the town's first settled minister in 1715.
Abigail Hasey (7/4/1712 – 2/17/1731)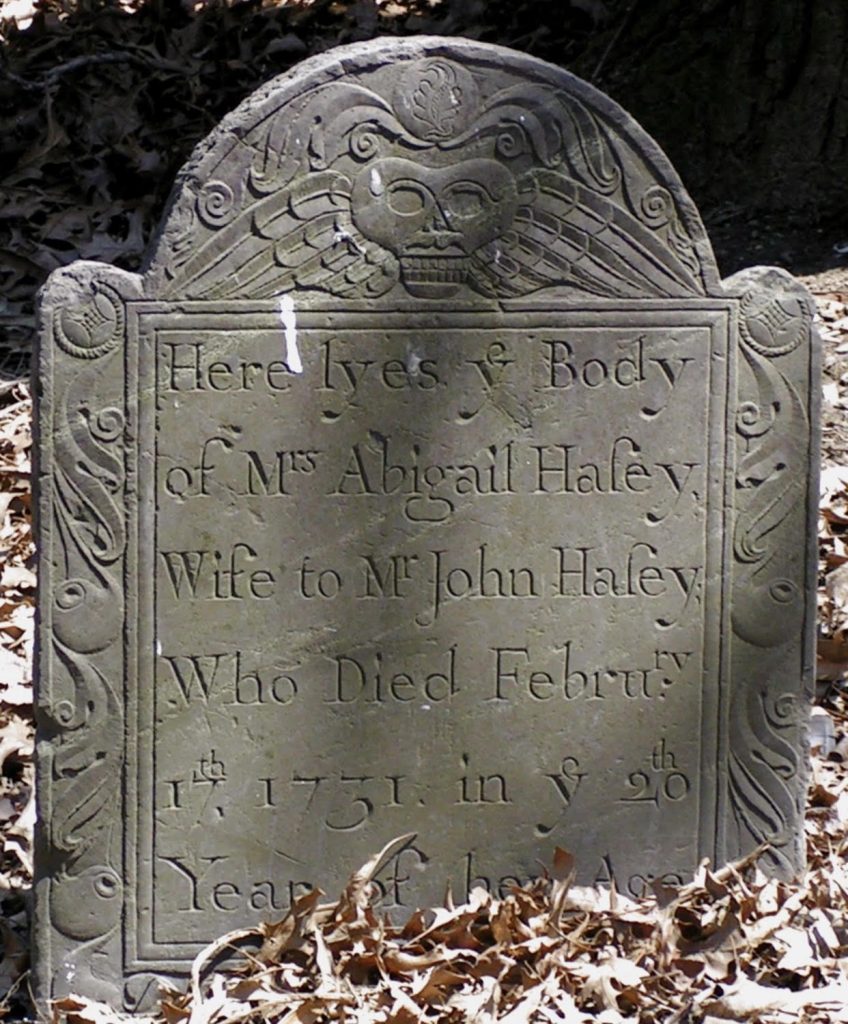 Abigail Dexter of Malden was the first wife of John Hasey (1710 – 1753, died in Leicester)
Sarah Hasey (1/8/1645/6 – 2/27/1735/6)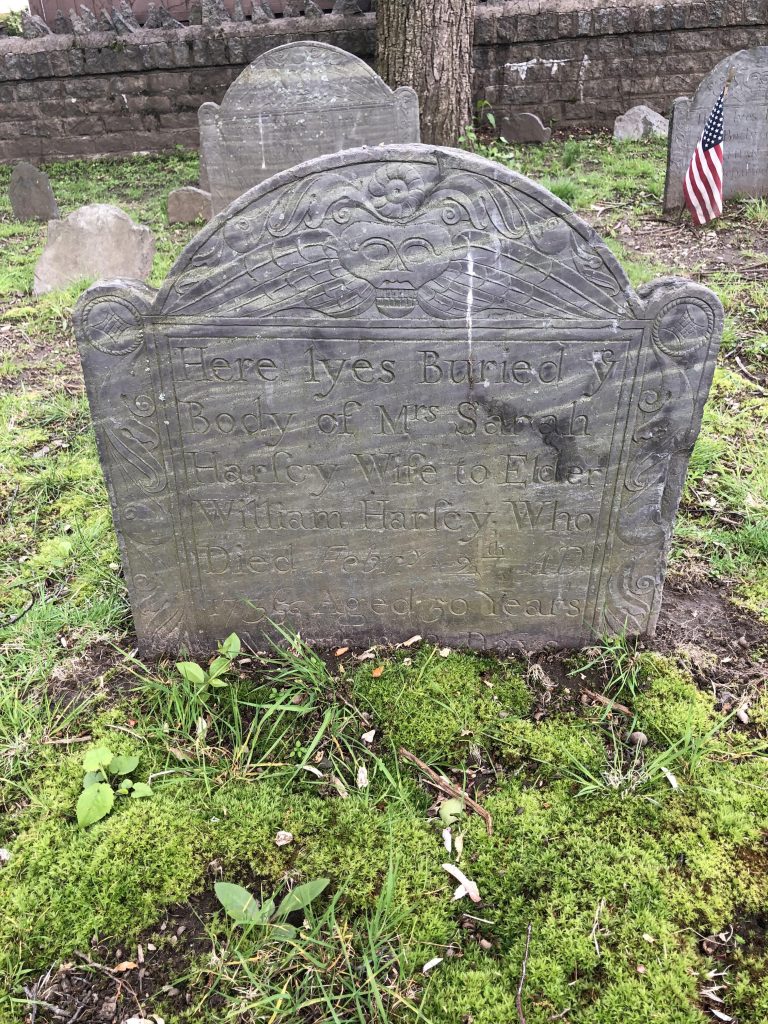 Sarah Tuttle of North Chelsea (which was Revere at the time) was the second wife of Elder William Hasey
Hannah Hasey (4/14/1747 – 7/18/1748)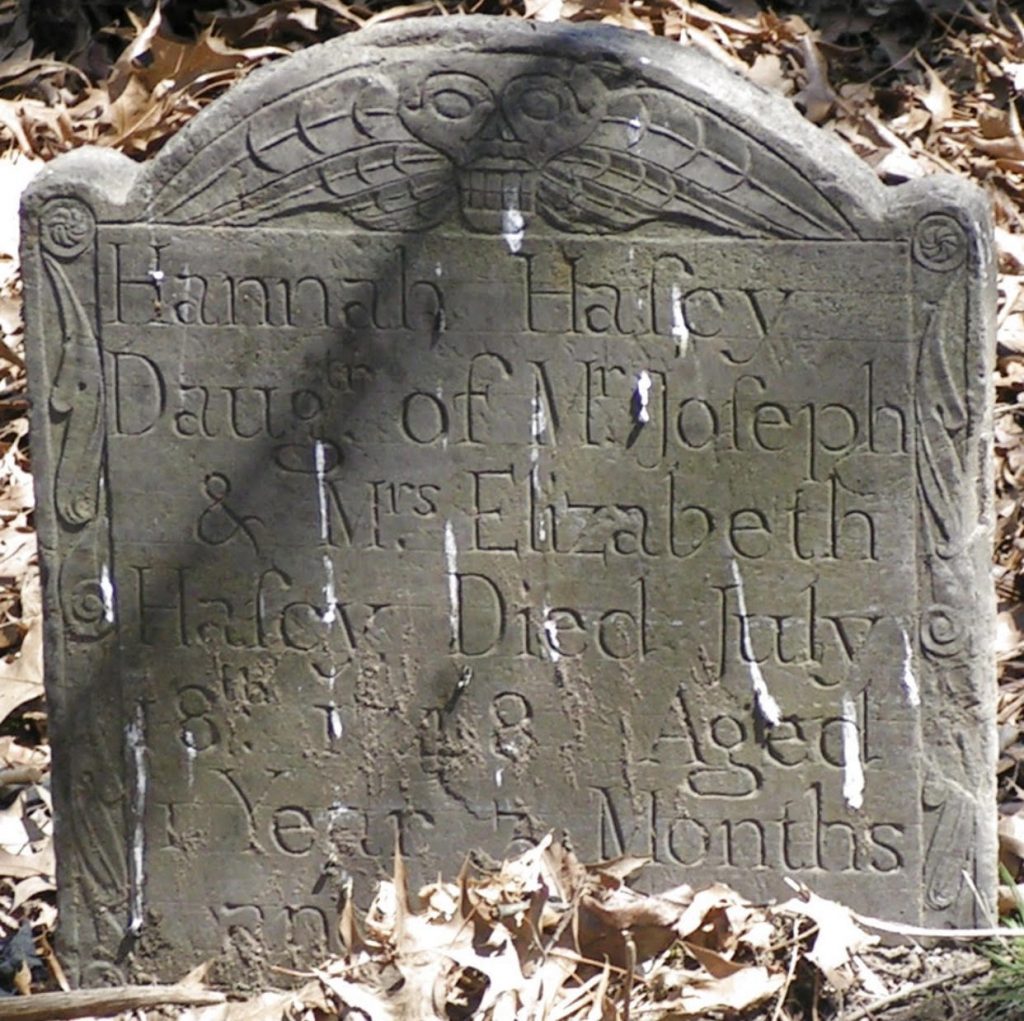 Hannah was the daughter of Joseph (son of Asa) and Elizabeth Hasey.
Deacon Jacob Hasey (3/18/1690 – 4/29/1753)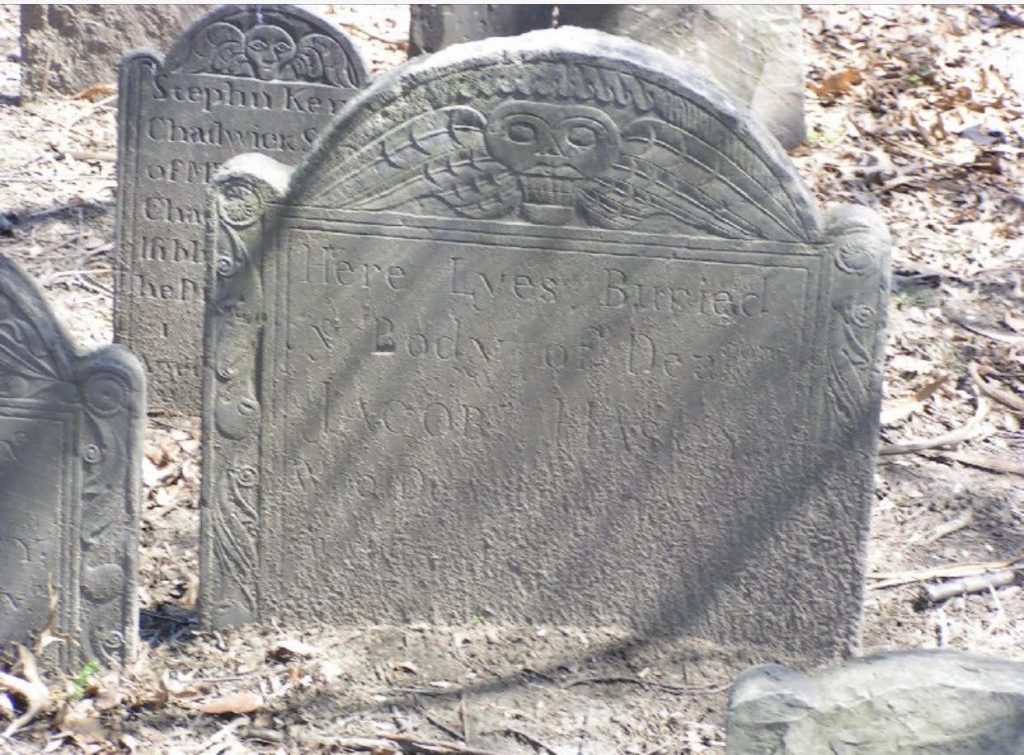 Jacob was the last Hasey to own the land that became RMBG. It passed from him to Joshua Cheever, who gave it to the town specifically for use as a burial ground.
In 1738 Jacob was the town sealer of weights and measures (an enforcer of laws related to accuracy of scales and measuring devices related to commerce) and surveyor of highways.
In 1743 he was part of a committee that attempted to annex Hog and Noddle Islands (East Boston) to Chelsea. They were unsuccessful.
Jacob owned a slave named Jemmy, who was given to his wife Abigail at Jacob's death. His will specified that Jemmy was to be set free at Abigail's death, but Jemmy could also be sold if he "gave her any trouble." Jemmy's name does not appear on the map or the slave plaques, so his fate is unknown.
Elder William Hasey (12/21/1679 – 12/21/1753)
William joined his cousin Asa in the group that selected Thomas Cheever as the first settled minister of Rumney Marsh in 1715.
In the 1740s William was a member of the school committee. In 1749 William was paid 68 pounds, 5 shillings for boarding the schoolmaster for 6 months.
William owned slaves named Peter and Jenny. They were left to his wife Abigail when he died. They are not included on the RMBG slave plaques, nor on the 1897 map, so it would seem they died and were buried elsewhere.
Abigail Hasey (3/14/1692/3 – 2/28/1783)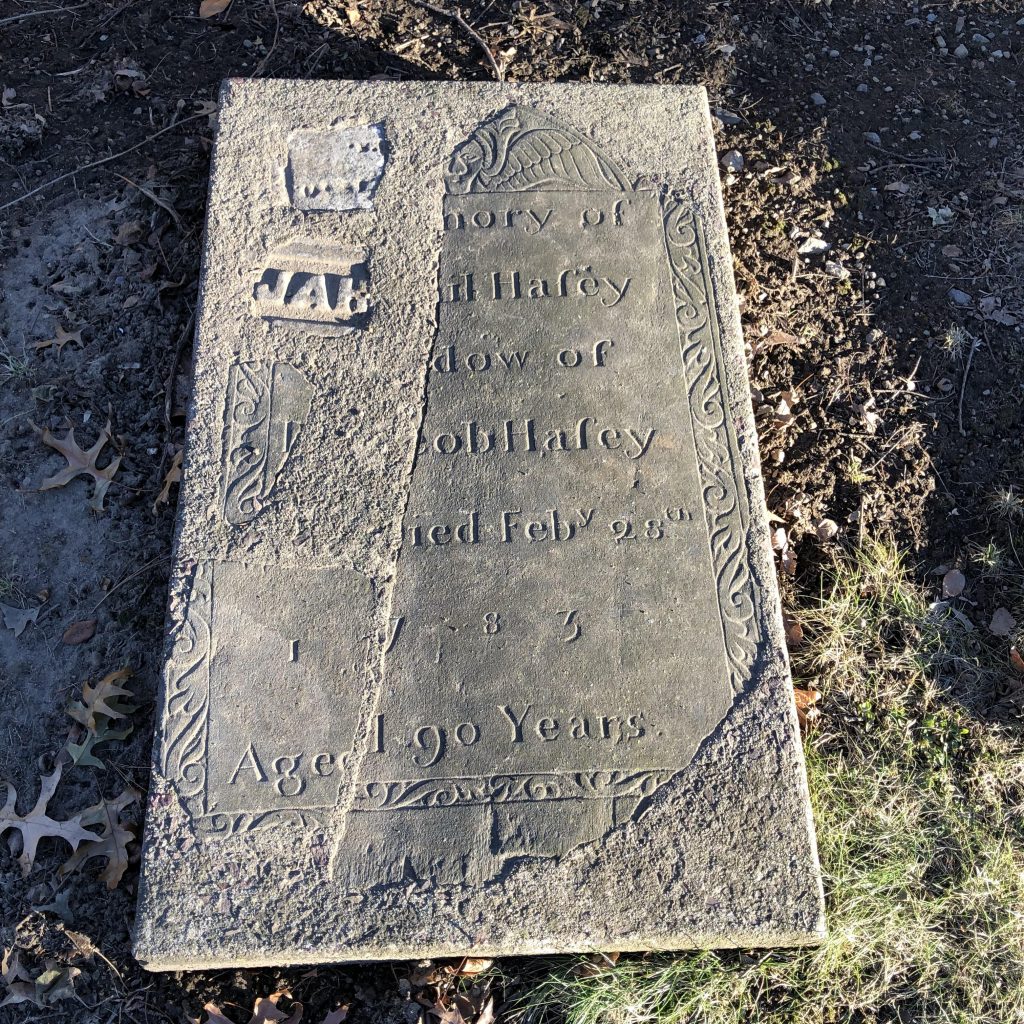 Abigail Nichols of Reading was married to Deacon Jacob Hasey.
Here you can see how what was recovered of her broken headstone was embedded in a flat concrete slab along with a few other random fragments. The "JAH" likely belonged to Abijah Floyd (1794-1838).
Researched and written by Brendan O'Brien, September 2020. Photographs by same unless otherwise indicated.