The main source of information about Joseph Lamson II is the book From Slate to Marble: Gravestone Carving Traditions in Eastern Massachusetts Volume II by James Blachowicz. Both volumes are available at http://graverpress.com and are absolutely essential for anyone interested in the history of New England's cemeteries.
Joseph Lamson II was a third generation member of the Lamson family, a dynasty in New England gravestone carving. His grandfather Joseph Lamson, the patriarch, started carving in the late 1670s, and his descendants carried on the family trade into the 1820s (his great-grandson Caleb II was previously featured in this series). Joseph popularized many of the common gravestone symbols of his time, and his children and grandchildren adapted those symbols to the changing tastes of their times.
Joseph Lamson II was born in Charlestown in 1728. He married Susanna Frothingham in 1753 and they had at least six children, including another Joseph who also carved gravestones. Joseph II reportedly owned the land on which the Battle of Bunker Hill was fought and lost most if not all of his property in the fires set by the British. He temporarily relocated to Newburyport and worked in a carving shop with Robert Fowle (who also has been featured in this series) but eventually returned to Charlestown where he died in 1789.
James Blachowicz credits Joseph Lamson II with at least 682 gravestones. Many of these are in cemeteries in Boston, Cambridge, and the North Shore, with some as far west as Concord and a few outliers as far north as Portsmouth, NH. Seven gravestones in Rumney Marsh Burial Ground are attributed to Joseph II: Nathan Cheever (1774), Lydia Sprague (1777), James Stowers (1780), Samuel Sprague (1783), Elizabeth Pratt (1784), William Low (1787), and another William Low (1789).
Lamson stuck mostly to the popular designs of his time: winged skulls and winged cherub faces. Blachowicz cites another study of Lamson's work in which it was noted that there are more cherub faces than skulls in the burial grounds of richer towns, indicating that perhaps gravestone art became a status symbol throughout the 18th Century. Lamson's versions of these common designs were simplified and streamlined, lacking some of the more ornate touches of his contemporaries. Blachowicz describes Lamson's cherub designs as "A round winged face with closely curled locks, round eyes whose corners do not extend very far left and right, and a small mouth whose lips are short and straight." His skulls are very straightforwardly carved and sometimes resemble lightbulbs in shape.
This stone, carved for Lydia Sprague, shows a typical Lamson cherub. He used different hairstyles for men and women and alternated between the curls seen here and a more slicked-back look.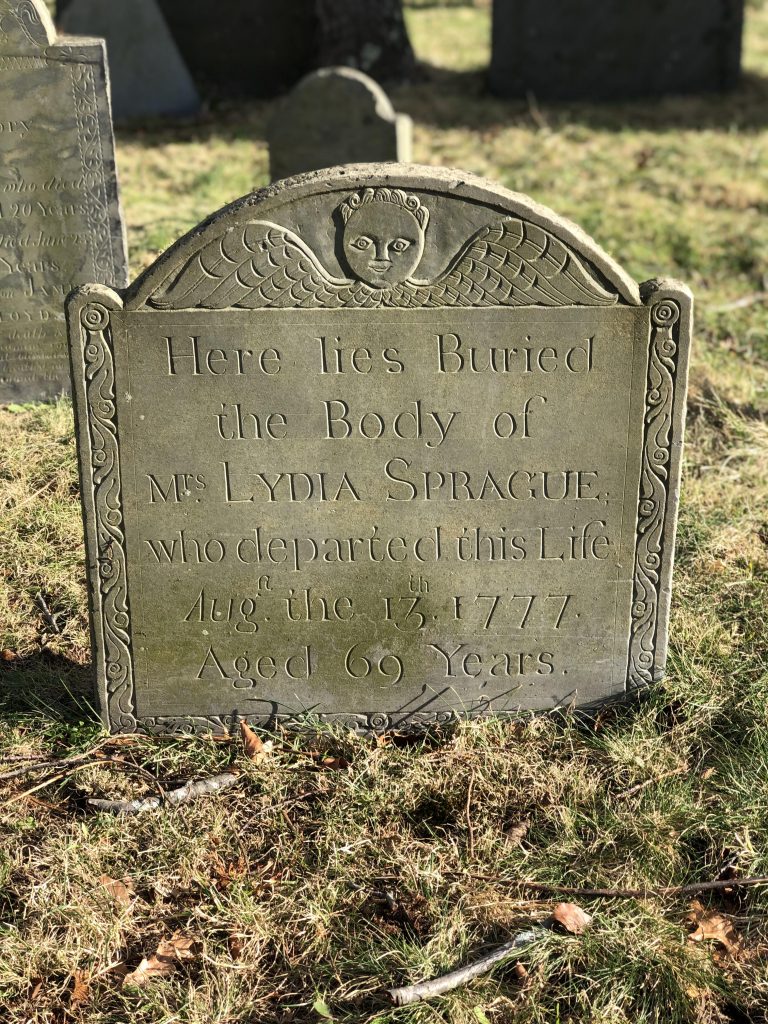 The following stones, carved for Lydia's husband Samuel, Nathan Cheever and William Low, showcase Lamson's winged skulls. The stone for Cheever shows one of the few ornamentations Lamson commonly used, a leaf above the head or skull with flowers on each side. All of these stones also feature Lamson's simple borders, which are far less elaborate than others of the time.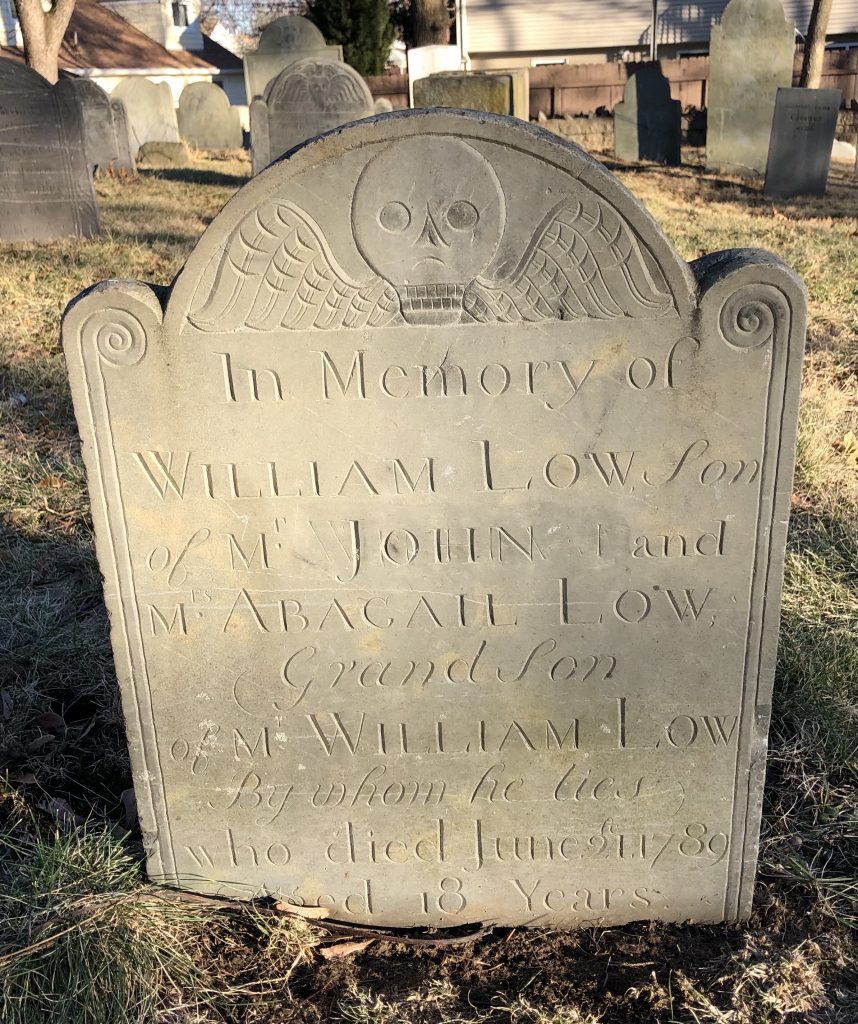 Researched and written by Brendan O'Brien, March 2022