By Jeffrey Mark Pearlman
One of the oldest yet least known cemeteries is here in Revere. Near Butler St. stands the Rumney Marsh Burial Ground where are buried some of Revere's first citizens. Many residents of our city probably are either unaware or faintly aware of the land itself. It is here that we find the last remains of the men and women who first called Rumney Marsh, later Revere, their home.
In 1693 the wife of Captain John Smith was buried in a plot in the back of the present Masonic Temple and thus began the first burying ground in Rumney Marsh. It wasn't until 1748 however that the present site was given to the town by a will left by Joshua Cheever, son of Thomas Cheever who was our first teacher.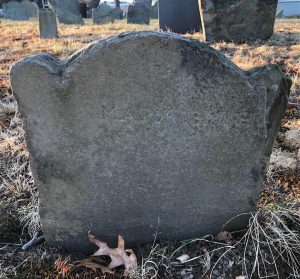 The cemetery is small and as one enters he sees a monument on which are engraved the names of local heroes of the Revolution. Deane Winthrop, son of the first governor of Massachusetts Bay, is buried here and from accounts of the funeral it seemed that a most formal affair befitting the death of a governor's son took place. The funeral was largely attended and many came by coach.
I would like to point out some other people who are buried here at the Olde Burying Ground. Besides his wife, Captain John Smith too is here. He is not to be confused with the Smith who settled in Jamestown but was a man who explored further North. The Rev. Thomas Cheever who died at 92 is buried here with his two wives. Cheever was the first school teacher in Rumney Marsh where he taught from 1709 to 1719. As was mentioned before, it was his son who left the town the land for the cemetery in his will.
Buried here is Lt. Thomas Pratt who owned a huge farm once belonging to the estate of Sir Henry Vane. Prattville, Chelsea was named for him and Pratt also built a grist mill where today is the site of Slade's.
There are many graves of Revolutionary War heroes. Among these are Samuel Sprague who led three companies of Minutemen. He was in his sixties when the war started. The famous fighting Parson Payson lies here, also Joseph Green and his son Joseph Jr. are here. During the battle of Chelsea Creek he gave refreshments to the patriots.
Last but not least are the remains of Job Warrow, a full blooded negro whose grave goes unmarked but not forgotten.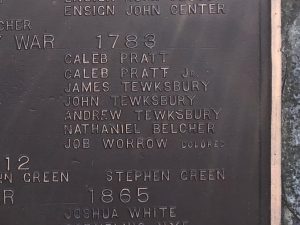 The Olde Burying Ground lies as a hallowed resting place for the brave men and women who were our first citizens. We shall forever keep them in our hearts and in our memory.
Source* Early Historical Facts About Revere – Mrs. Belle Shaw