The online resources of the Revere Public Library feature a searchable digitized collection of The Revere Journal newspaper from the 1880s through the 1970s. This is an invaluable resource for anyone interested in any aspect of Revere's history.
Most of the articles about RMBG in the 20th century were about Revere's old Memorial Day exercises – a parade followed by ceremonies at RMBG that featured wreath-laying and speeches given by mayors and notable veterans. In the early 1970s there were a few editorials written in dismay at the dwindling crowds at these ceremonies. The burial ground is no longer part of any Memorial Day activities in Revere, but there may or may not be a direct connection there.
There are some interesting articles that were not about Memorial Day. The Journal of February 26, 1975 features a short history of RMBG written by our own Jeff Pearlman at an earlier stage in his career as Revere's Historian. Some articles from the 1920s and 1930s indicate the existence of an earlier committee dedicated to the upkeep of RMBG and other historic places in Revere, Chelsea, and Winthrop.
This page will collect images and transcriptions of Journal articles that feature RMBG in interesting ways. We definitely encourage you to search the collection yourself – in addition to finding whatever specific things you might be looking for some of the old headlines and stories can be pretty funny1 My personal favorite is a brief note about a muskrat invading the police station cellar in 1923. It doesn't say what happened to it but I hope it was released on its own recognizance!!!
February 26, 1975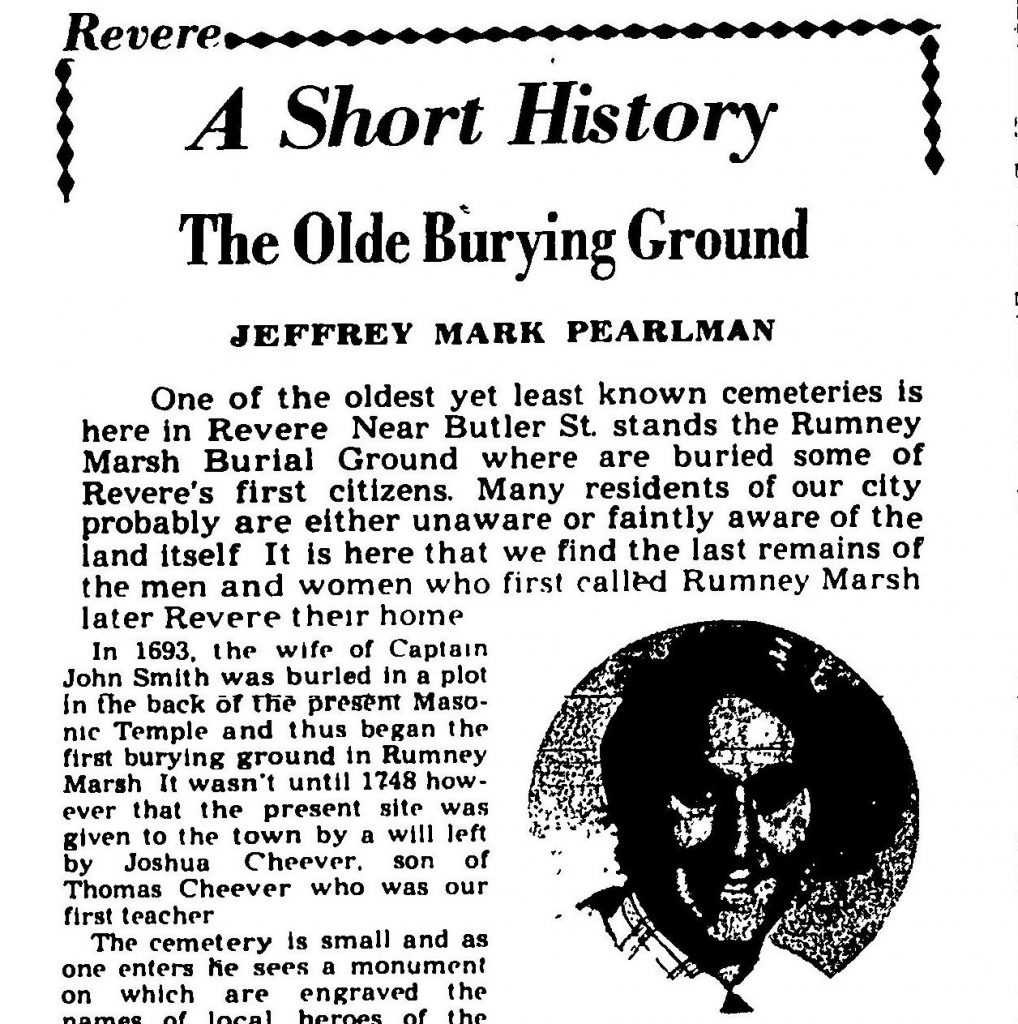 Click here for a transcription of this article with pictures!
September 3, 1936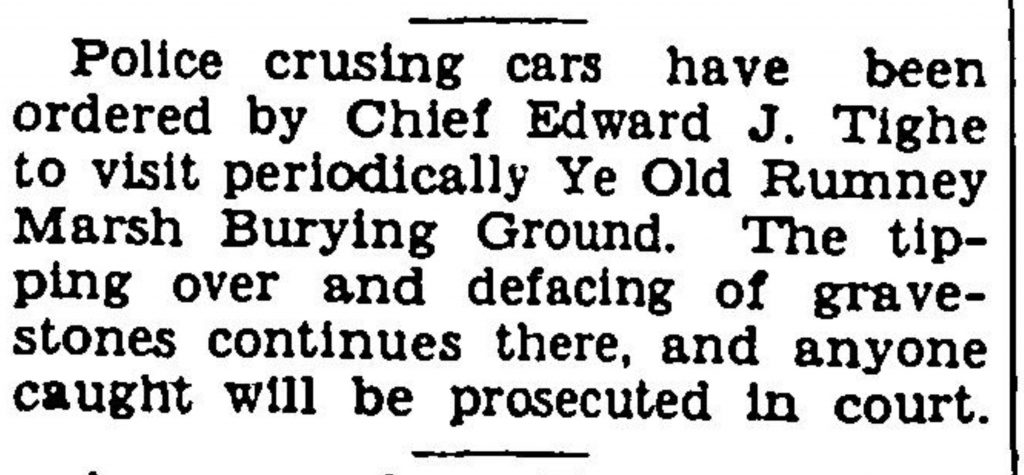 A note from the "Revere Locals" column, 9/3/1936. Most if not all of New England's old burial grounds have had their issues with vandalism and RMBG has been no exception.
June 18, 1932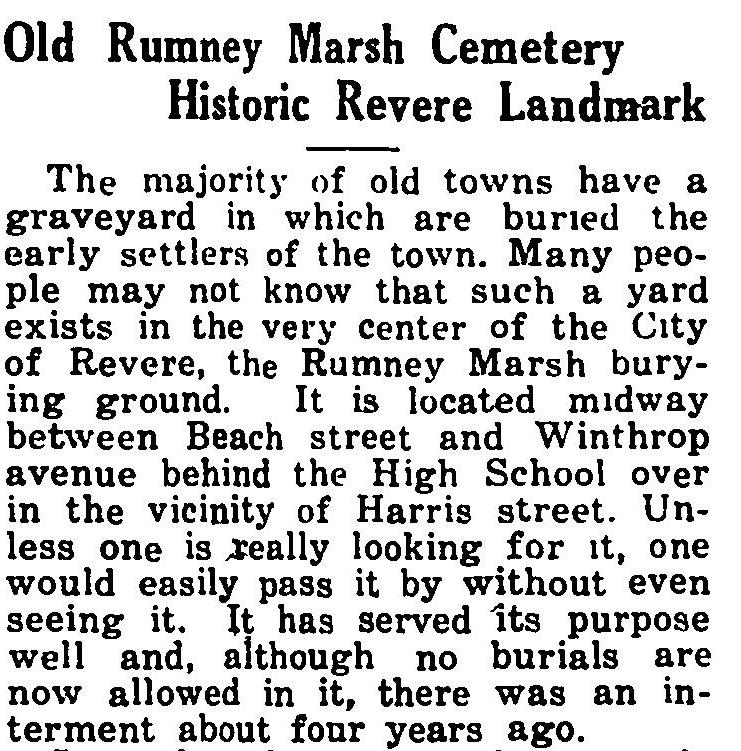 Click here for a transcription of this article with pictures!
The "Rumney Marsh Tablet Fund" of 1930
In 1930 there were two articles tallying up donations solicited for what I'm assuming is the "tablet" naming all the veterans buried in RMBG. The original tablet is on display at the Revere History Museum at 108 Beach Street. A more durable replacement can be seen at RMBG (I'm not sure when the tablet was replaced.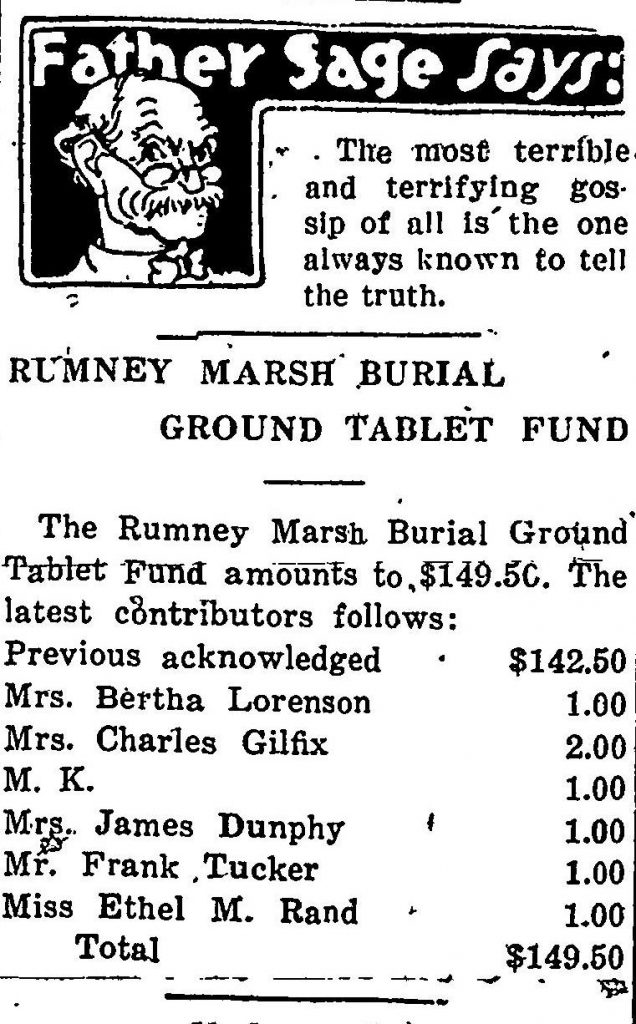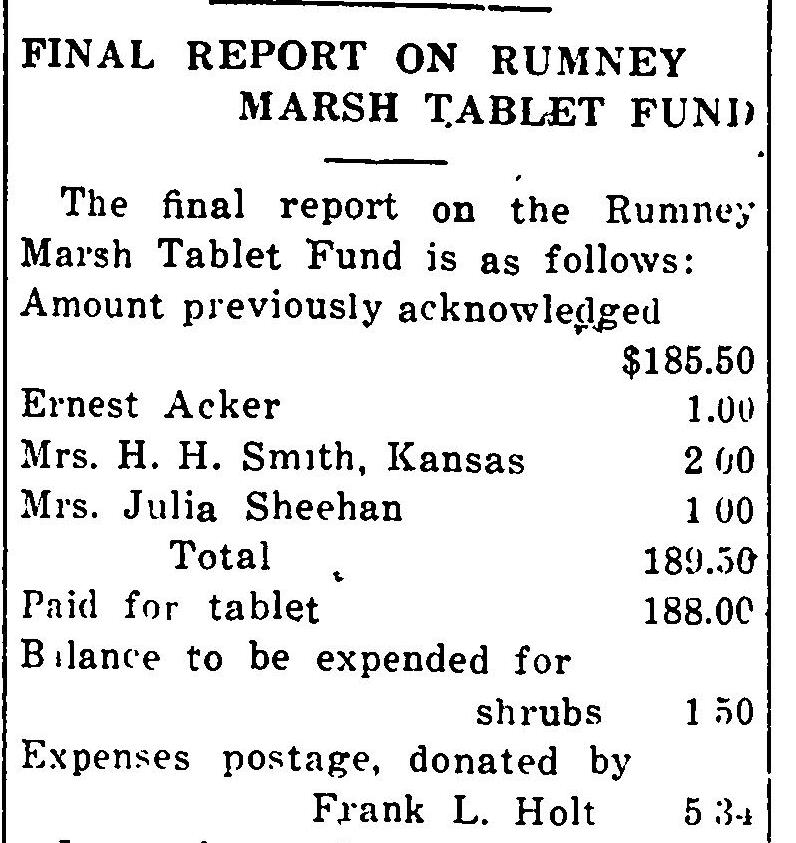 Click here for a transcription of the article that accompanied the final tally!